I have been suffering from some major knitting ADD. I have started and given up on so many projects that I don't even care to keep count. But one project that I have stuck with and that I have almost completed is the
Mohawk Hat
from the
Domiknitrix
book. I don't quite have all the mohawk crocheted in yet but I should be done with it really soon. It's for my friend Dustin. I have been telling him for a long time that I would make him a mohawk hat but I have never seen a pattern for one until I got this book. I made it out of Lamb's Pride Bulky in colors Lotus Pink and Aztec Turquoise.
Oh yeah, and I had to felt mine a bit because my gauge got off somewhere in the middle of the project and I didn't feel like ripping it out. :-)
I'm almost certain now that I have come to a decision about my Sockapalooza sock pal's socks. I'm going to cast on any day now, so I'm crossing my fingers that everything turns out good and that I will be satisfied with my decision.
The Yarn:
Cafe au Lait Trekking Sock from
See Jayne Knit.
The Pattern:
Saucy!
from Cider Moon.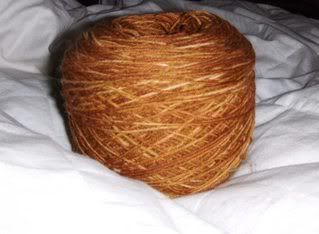 And I have also signed up for
Mystery Stole 3
.
For the stole I purchased JaggerSpun Zephyr in Lady Slipper and since it calls for beads, I visited a local bead store to purchase the variegated rose beads.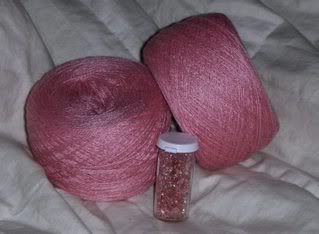 I'm also planning to make the
Sybellia
Throw from Berroco.
I chose to use Red Heart's "Soft Yarn." I don't normally like Red Heart but this yarn is very soft and it has a really pretty sheen to it, plus its totally machine washable. I started to make this in a cream color but changed my mind to this really pretty green.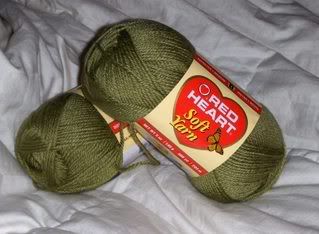 The best part about this green is that it coordinates perfectly with this quilt I'm going to attempt to make.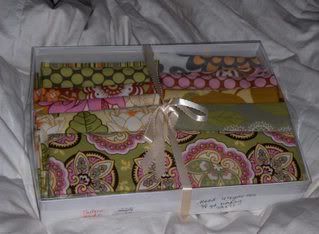 The pattern is called Lotus Brick Path.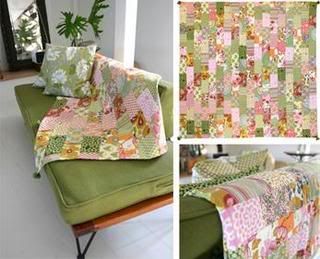 I have never made a quilt before and I'm not much of a seamstress, but my mom assures me that it will be easy and that she will help me along the way. I'm really excited about trying something new.
Hopefully these project will cure the ADD. I'm really excited about all of them. And now my favorite picture of Henry from this week.